RESOURCES
Resources and frameworks for your IAM journey
Free documentation designed to help IT and Security professionals tackle their daily security challenges in the continuously changing IT landscape.
FREE GUIDE
Get our free ebook on how to prove that you are in control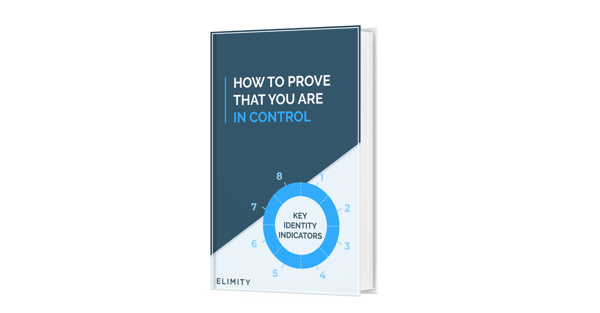 ✔ 8 Categories of identity indicators
✔ How to choose the right indicators?
✔ Based on ISO27001-framework
FREE DATASHEET
IAM FROM A CISO'S PERSPECTIVE
IAM remains one of the most complex aspects of cyber security to implement.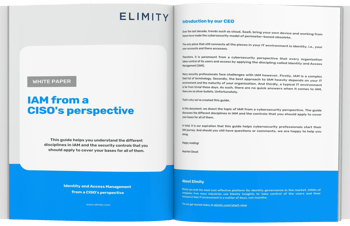 ✅ Learn why should you care about IAM
✅ Master the three major disciplines of IAM
✅ Cover all your bases with the must-do's for securing IAM
CUSTOMER CASE
User Access Screening
Our client, active in the manufacturing industry wanted insights in its current IT risk posture, but faced multiple challenges related to identities.
👉 Limited Control over users and accounts
👉 No view on user access and risks
FREE DATASHEET
Prove it!
This identity indicator canvas is an interactive datasheet, designed to help you prove that you are in control of your users and their access.
👉 Overview of the key identity indicators
👉 Calculate your security score
CUSTOMER CASE
Enterprise-wide Visibility
For our client, a government organization with a complex IT environment, Elimity improved their cyber security posture with identity intelligence.
👉 Time-to-Value: 2 weeks
👉 Result: complete overview IAM
Leave us a message
You can leave us an email at info@elimity.com, or fill in the form on the right.
Always welcome for a coffee
Elimity NV
Motstraat 30
2800 Mechelen
Belgium