EIC 2023
This was Elimity at EIC 2023
Elimity's unique perspective on the European Identity and Cloud Conference in Berlin 2023. Learn about Elimity's Lightweight Identity Governance Solution.
---
European Identity and Cloud Conference 2023
The European Identity and Cloud Conference
is the place where the digital identity and cyber community comes together to set the course for the future of digitization. It was a venue full of actionable insights about digitization journeys, combined with building strategic partnerships and connecting with IAM peers from all over the world.
Lightweight Identity Governance
The focus of Elimity at EIC was bringing its lightweight identity governance to companies from all over Europe.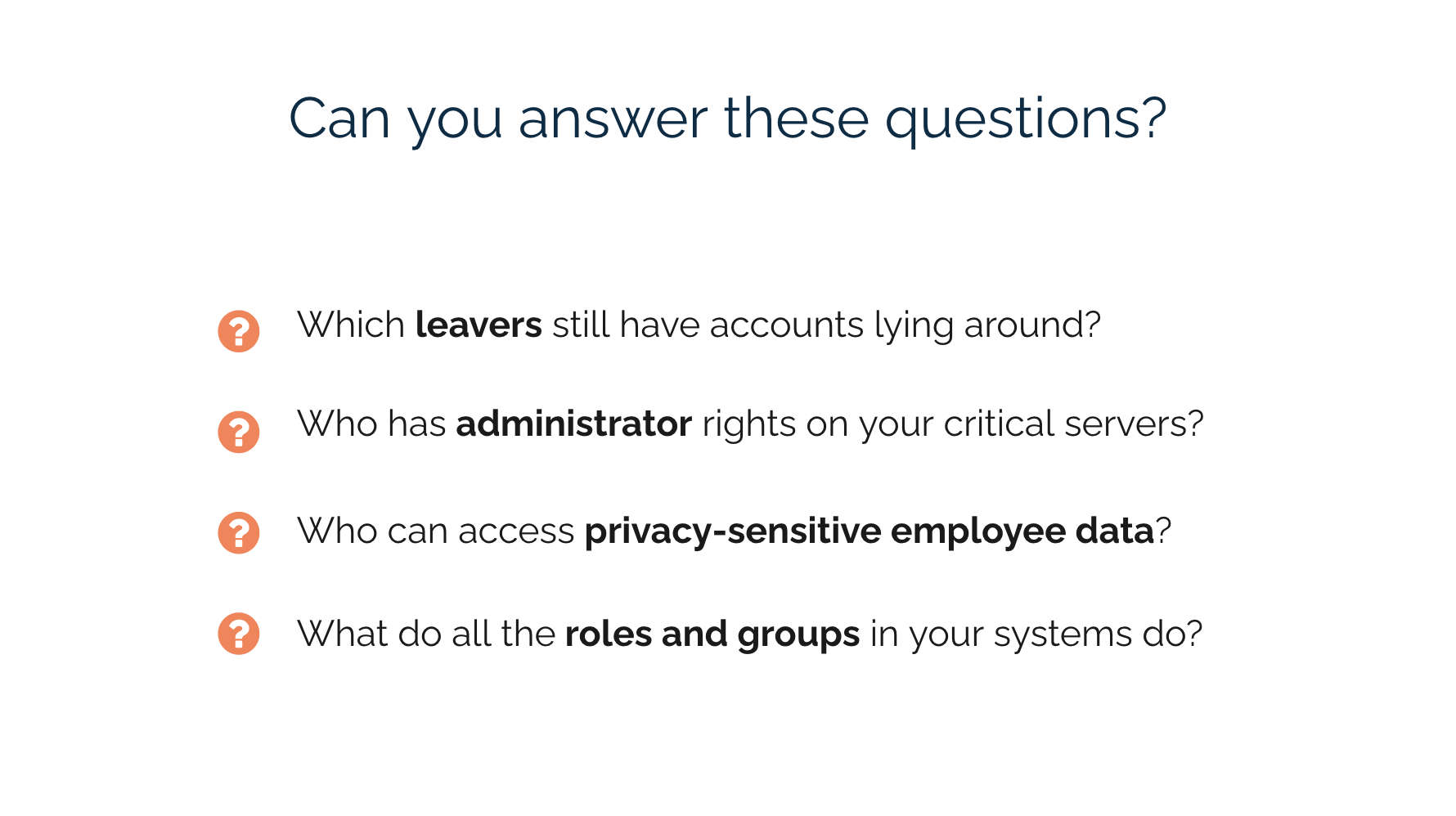 Elimity was founded based on the strong belief that every company should be able to answer the questions above, yet many companies still cannot.
Whether this is because these companies have to do a lot with a small security team, or because these companies have highly complex IT infrastructures, it is our mission to help any company out there get in control of who can access what fast.
And we do so by looking at identity governance as a data problem and focussing on the fundamentals: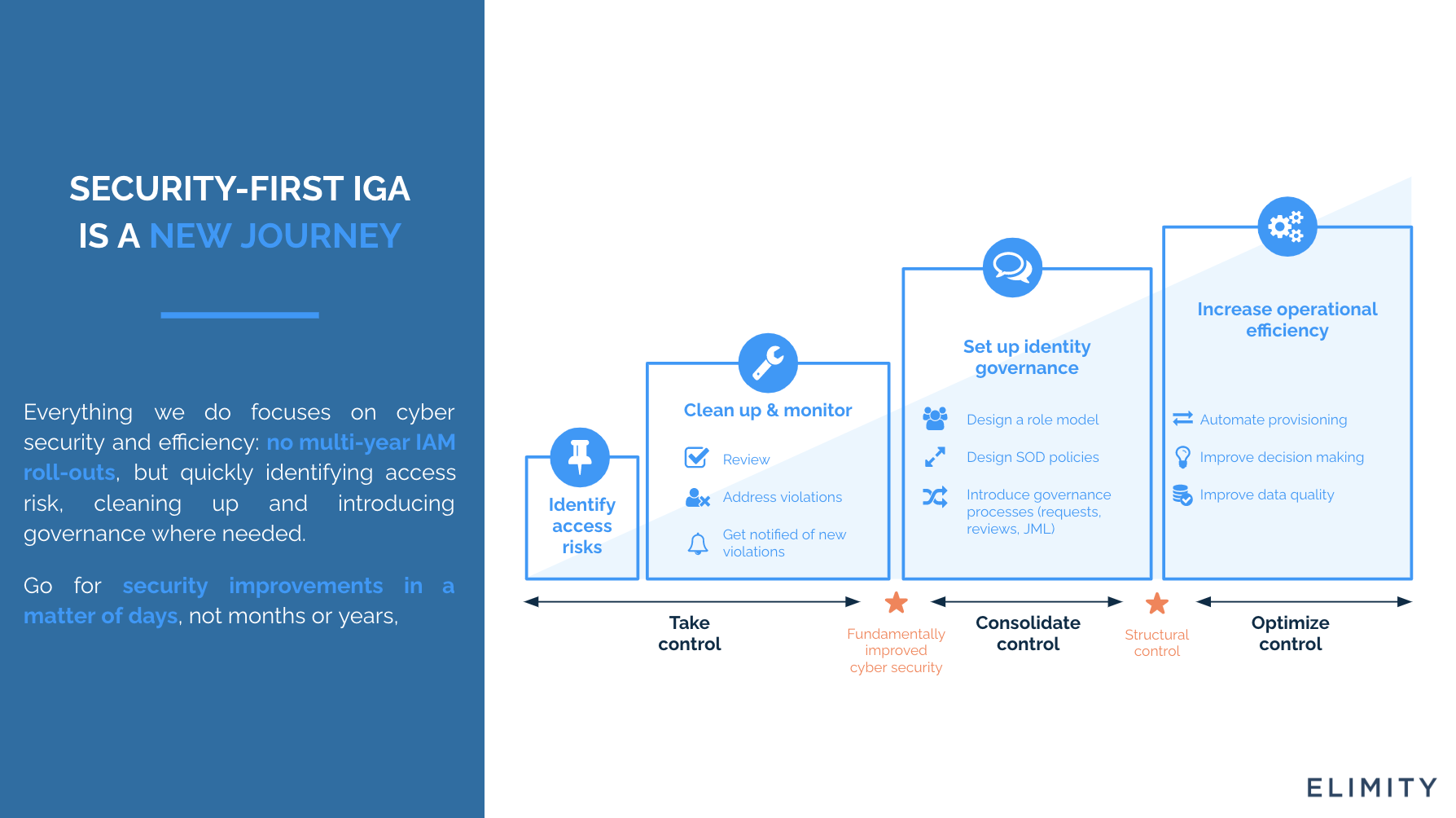 Pictures at Conference 📸
Highlights of this year's EIC
IAM is at the center of cybersecurity more than ever. Zero trust, minimising the identity attack surface, passwordless authentication, identity-based security, identity in OT security, all of these topics are hot and that's because these are crucial to your cybersecurity posture.
AI is eating the world, including IAM. 2022 was the year of the breakthrough of AI and we also see this coming up in IAM. Vendors are exploring ways to leverage AI to automatically detect risk and facilitate governance. On point of attention is that success stories in practice remain to be seen, given that AI requires large and highly-qualitative data sets, which is not the strongest point of IAM for now 😊
Standards, standards, standards. Digital wallets, verifiable identities, single sign-on, ecosystems and collaborating with partners, all of these scenarios require collaboration and standardisation, and the IAM market keeps looking for ways to improve those.
A late-night reception and a morning run. We would have like to say that we joined the morning run after late-night drinks at the EIC evening reception, but that would be a lie. While others were running, we were in bed and we're not ashamed to admin it 😌
Webinar on May 25th, 9:00 AM 🎥
Every CISO should have a clear view of Access Flows, Entitlements, and User Status - all tracked over time - to achieve the Responsible Governance objective.
Link: https://register.gotowebinar.com/register/8428501427173506564
Elimity in a nutshell
🌎 Elimity is a Belgium-based cyber tech scale-up;
👉 Our platform provides visibility in your users and apps;
☁️ Integrating with all critical assets
📈 Reducing risks and compliance costs
📎 With our blogs, we keep security professionals on top of their game!