ACCESS SECURITY PLATFORM
User Access Management made simple
Allowing security teams to protect their most valuable assets in the most effective manner.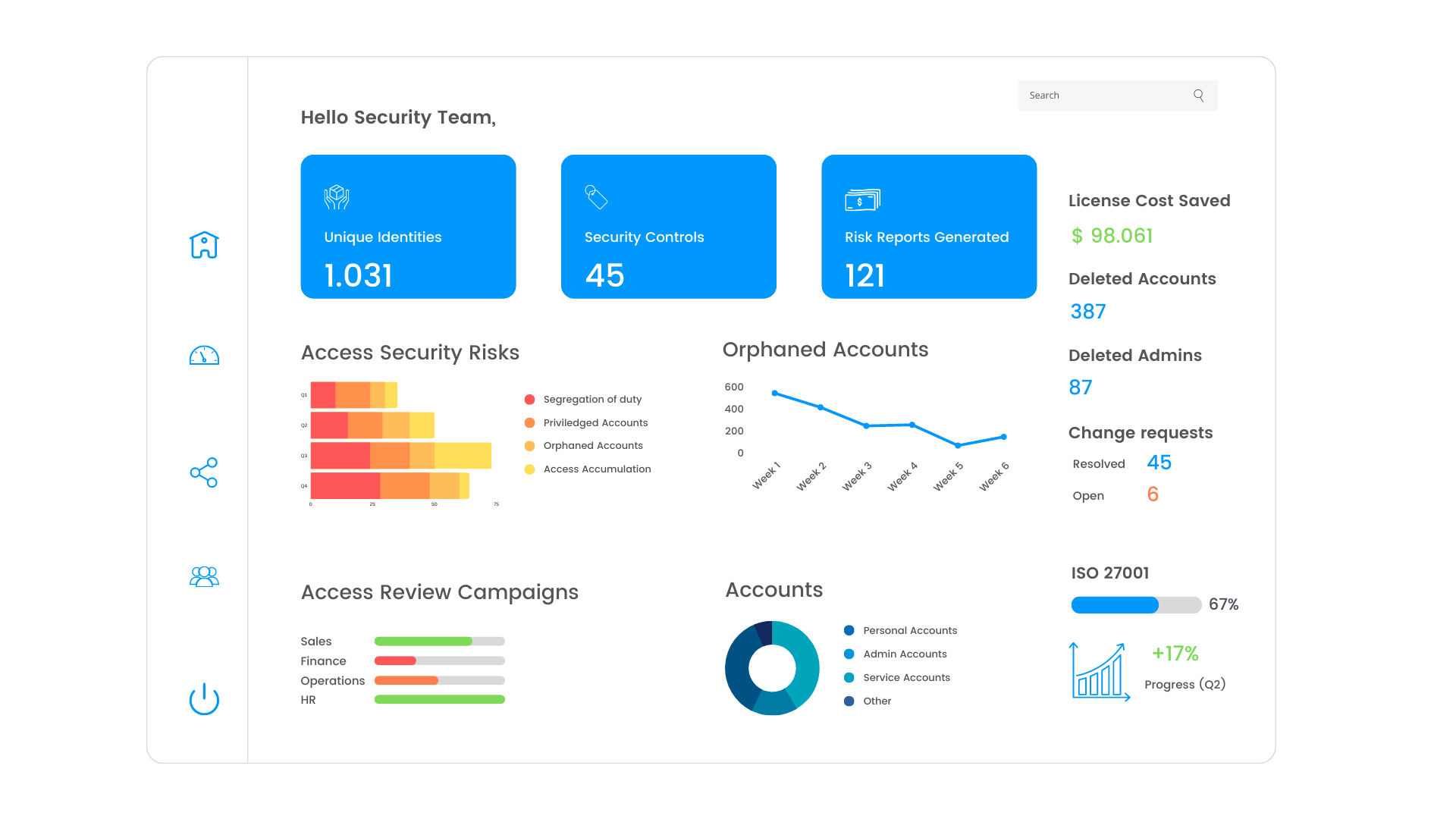 Can you answer these questions?
How many inactive accounts do we have?
Who has too many admin rights?
Are there users with outdated passwords?
Which contractor accounts have to be deleted?
No worries, we explain you how to prove that you are in control👇
THE BIG PICTURE
Ensuring employees have the right access to the rights assets
Controlling user access to critical data and applications within the organisation is crucial, but time-consuming and costly when taking action.
Elimity accelerates your digital transformation by providing insights in risks and controls related to user access.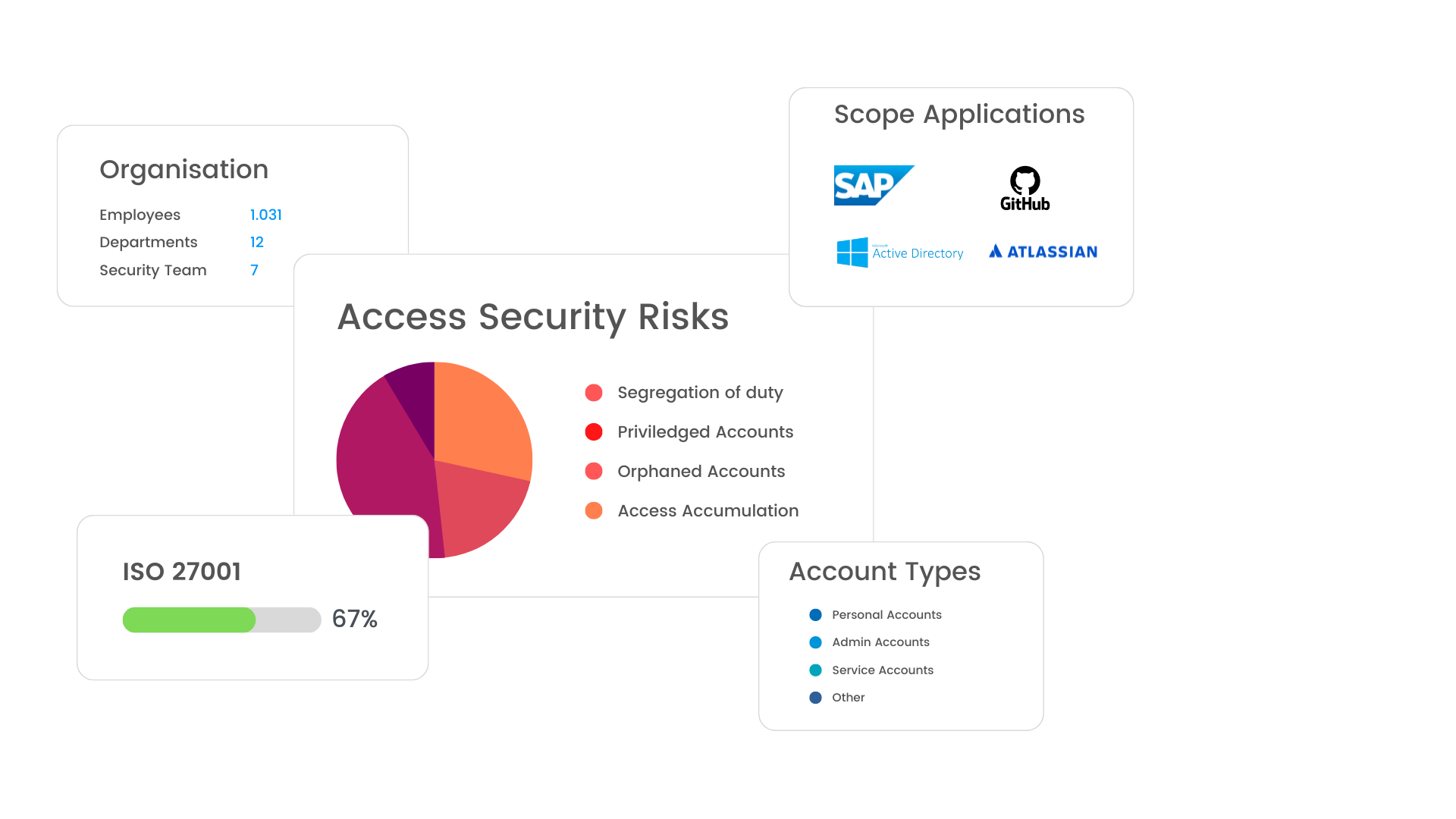 Integrate with all your favorite solutions.
And we really mean all of them...
ENHANCED FEATURES
The essentials for top-notch security teams
Protect Critical Assets
Secure and control access to any asset, app or infrastructure, on-prem, hybrid or multi-cloud
Reduce Risks & Compliance Costs
Remain audit-ready at all times by reporting automatically on controls and risks in place
Smarter Security Decisions
Take data-driven decisions when prioritising remediations
Automated Access reviews
Reviewing access is no longer a one-man show, but becomes a shared responsibility
TESTIMONIALS
What our customers say
"Elimity's platform provided crucial insights regarding the security of our IT assets. Even more important, it allowed us to share the responsibility of user access with the business units."
"Monitoring user access to our organisation's data used to be done manually. Elimity's platform automated this process, as well as reports on the risks and controls in place, saving our security team valuable time."
"As a vendor of software for financial organisations, we are obliged to report on the security of our IT assets and data. We leverage Elimity's reporting on user access in our RFPs, without requesting time from the security team.
CASE STUDIES
Protecting IT assets and data in various industries
SITUATION
Dealing with sensitive customer data, the insurance leader requires control over the user access to critical applications.
SOLUTION
Elimity's platform provides deep visibility into changes and data access across the entire infrastructure.
IMPACT
Thanks to out-of-the-box compliance reports mapped to ISO-controls, preparing audits now takes him just one day — instead of a week — to generate reports on security controls.
SITUATION
International Security Leader strives to lead by example by controlling user access over +1300 branch offices within EMEA.
SOLUTION
The EMEA Security team leverages Elimity's solution to monitor, control and report on its most critical business applications.
IMPACT
Reducing the number of admin accounts with over 25% in a matter of days.
SITUTATION
Our client is heavily regulated by the European Banking Authority as it is a cloud service provider for financial institutions.
CHALLENGE
For all RFPs and EBA-audits, the CISO has to report on user access to critical business systems, performed manually using Excel or mailing campaigns.
IMPACT
Reporting time: 2u --> 5 min per RFP or audit
Automated Access Reviews
Larger scope of internal applications (+8)
What is Identity and Access Management?
User Access Management (UAM), also known as identity and access management (IAM), is the administration of giving individual users within a system access to the tools they need at the right time. For businesses, this usually includes access to external applications, permissions, and security requirements.
Today, challenges can arise as companies grow, and employees with varying roles and responsibilities increasingly use external enterprise solutions to do their jobs. An identity and access management solution helps manage this by providing a seamless way to manage user identities and access all in one place.
Can Elimity be used to comply with ISO27001, ISAE3204 and other frameworks?
Absolutely, our customers use Elimity's automated reporting to face audits with confidence and comply with all access related requirements of standards as ISO 27001, ISAE 3402 and the SOC-certifications. The testing and reporting on security controls does not longer needs to be performed manually by the Risk, Compliance and Security Team. Push the button and obtain the right report.
Which integrations can be made?
Elimity integrates with organisations' most prominent business applications. Via our out-of-the-box connectors, our platform interacts with data from applications as SAP, Workday, Active Directory, Azure AD, Google Suite, ServiceNow, Atlassian's solutions and much more. And there is more good news. We do provide custom integrations to cover your company-specific applications.
What is the Time-to-Value of Elimity?
Good question! Thanks to our out-of-the-box connectors, we do not require multiple weeks or even months to implement a viable solution for your Security Team. Within 4-5 days, we connect our solution to your most crucial business applications and provide you with valuable insights regarding the security of the organisation's IT assets.
Is a free trial possible?
We usually work with a Proof-of-Value, allowing your security teams to test the solution for two months and let our features do "sales"-work. Let's get in touch and discuss what this means for your organisation.
Get notified on new cyber insights and relevant updates
Be the first to know about new cyber trends and take your security expertise to the next level.