PLUG-AND-PLAY IDENTITY GOVERNANCE PLATFORM
Take control of
user access

with Elimity

The fastest way for security teams to eliminate
identity-based risks and implement mature identity governance.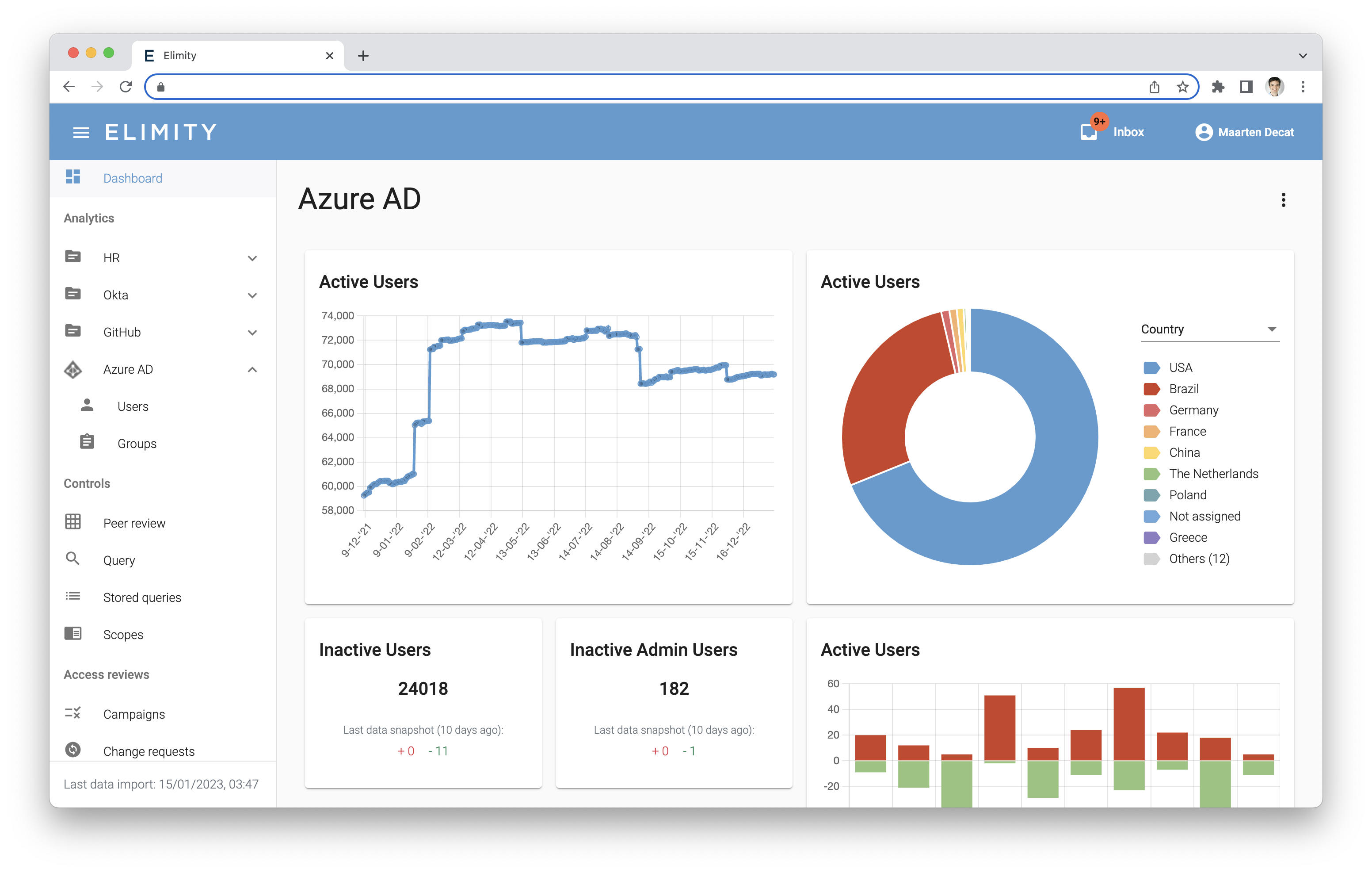 Trusted by leading companies
Elimity Exhibits at Cybersec Europe 2023
Can you answer these questions?
How many inactive accounts do you have?
Who has too many admin rights?
Are there users with outdated passwords?
Which contractor accounts have to be deleted?
No worries, we explain you how to prove that you are in control👇
Integrate with all your favourite solutions
and we really mean all of them...
ELIMITY PLATFORM
Take control of User Access at speed
Achieve mature identity governance
Consolidate control by easily implementing the needed identity governance processes. Send out access reviews to team leaders and application owners. Start creating roles based on the current permissions of your users. Integrate with ITSM to automatically implement the necessary changes.
TESTIMONIALS
What our customers say
"Elimity's platform provided crucial insights regarding the security of our IT assets. Even more important, it allowed us to share the responsibility of user access with the business units."
"Monitoring user access to our organisation's data used to be done manually. Elimity's platform automated this process, as well as reports on the risks and controls in place, saving our security team valuable time."
"As a vendor of software for financial organisations, we are obliged to report on the security of our IT assets and data. We leverage Elimity's reporting on user access in our RFPs, without requesting time from the security team."
What is Identity and Access Management?
User Access Management (UAM), also known as identity and access management (IAM), is the administration of giving individual users within a system access to the tools they need at the right time. For businesses, this usually includes access to external applications, permissions, and security requirements.
Today, challenges can arise as companies grow, and employees with varying roles and responsibilities increasingly use external enterprise solutions to do their jobs. An identity and access management solution helps manage this by providing a seamless way to manage user identities and access all in one place.
Read the extended version here.
Can Elimity be used to comply with ISO27001, ISAE3204 and other frameworks?
Absolutely, our customers use Elimity's automated reporting to face audits with confidence and comply with all access related requirements of standards as ISO 27001, ISAE 3402 and the SOC-certifications. The testing and reporting on security controls does not longer needs to be performed manually by the Risk, Compliance and Security Team. Push the button and obtain the right report.
Read here about the
link
with the NIS-directive and Identity and Access Management.
Which integrations can be made?
Elimity integrates with organisations' most prominent business applications. Via our out-of-the-box connectors, our platform interacts with data from applications as SAP, Workday, Active Directory, Azure AD, Google Suite, ServiceNow, Atlassian's solutions and much more. And there is more good news. We do provide custom integrations to cover your company-specific applications.
Find
here
all the integrations.
Is a free trial possible?
Sure! Elimity allows security teams to test the solution with limited features.
Get notified on new cyber insights and relevant updates
Be the first to know about new cyber trends and take your security expertise to the next level.