YOU HAVE AN IGA SUITE PARTIALLY DEPLOYED
How a Large Organization Accelerated Deployment of New IGA System
The roll-out of the IGA Suite is anticipated to be a complex and lengthy project. Adding an
identity analytics layer

allows IAM teams to accelerate the project timeline and mitigate potential risks.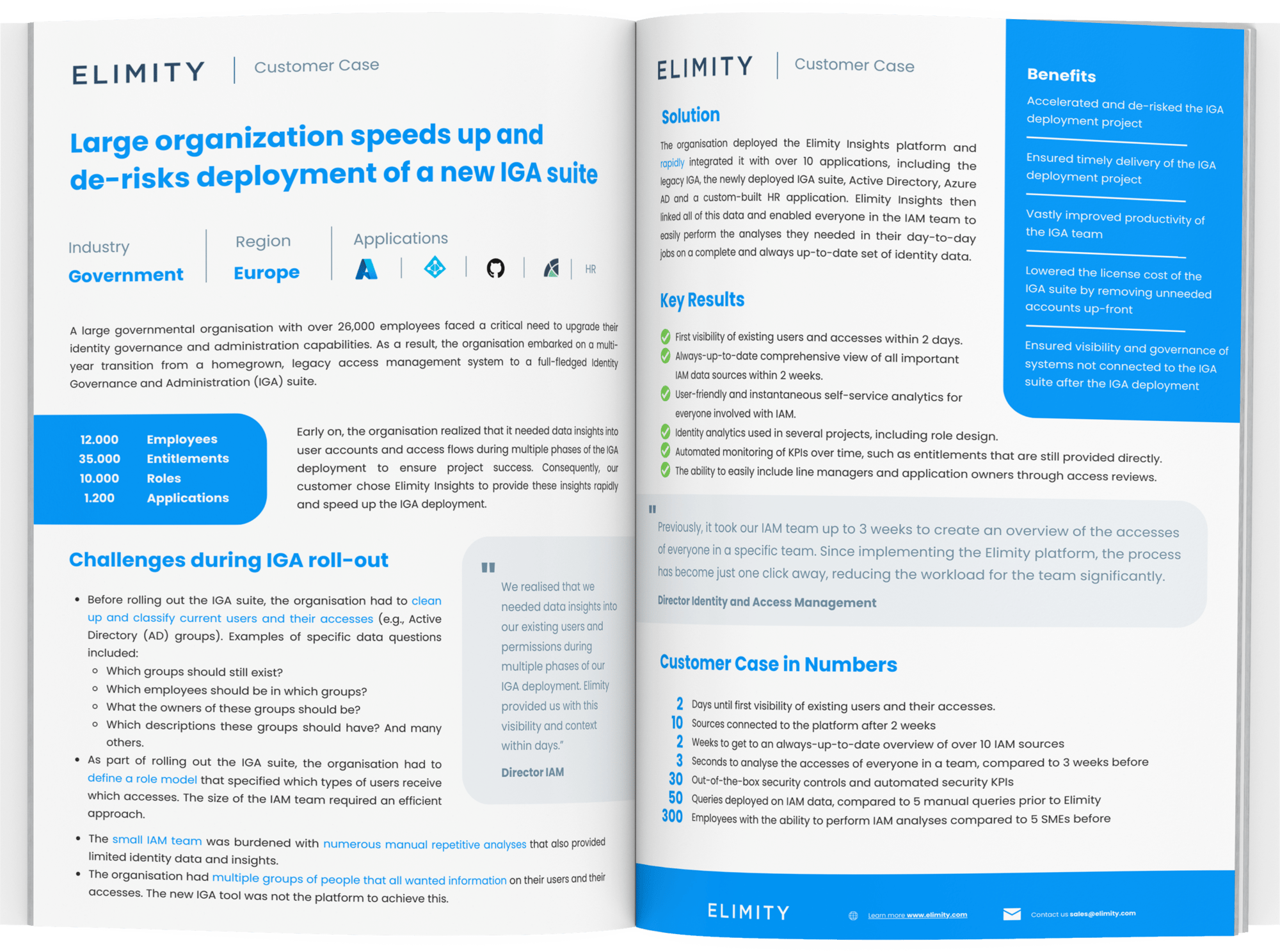 Previously, it took our IAM team up to 3 weeks to complete the peer review within the organisation. Since implementing the Elimity platform, the process has become just one click away, reducing the workload for the team significantly.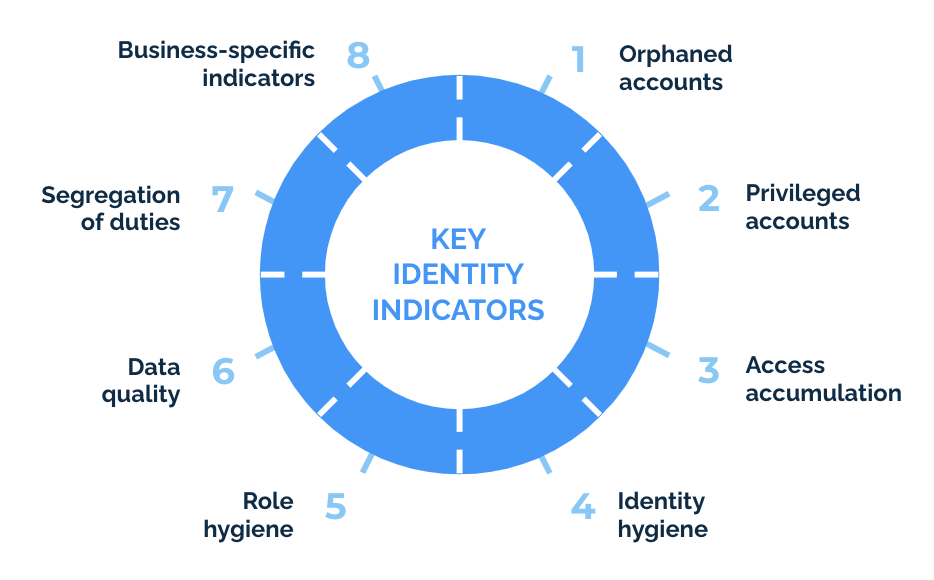 Challenges
Data Clean up: Before rolling out the IGA suite, the organisation had to clean up and classify current users and their accesses (e.g., Active Directory (AD) groups). Examples of specific data questions included:

Which groups should still exist?

Which employees should be in which groups?

What the owners of these groups should be?

Which descriptions these groups s

hould have? And many others.

Role Definition

: As part of rolling out the IGA suite, the organisation had to define a role model that specified which types of users receive which accesses. The size of the IAM team required an efficient approach.
Limited Resources: Limited Resources: The small IAM team was burdened with numerous manual repetitive analyses that also provided limited identity data and insights.
Multiple Stakeholders: The organisation had multiple groups of people that all wanted information on their users and their accesses. The new IGA tool was not the platform to achieve this.

Key Results

Customer Case
✅ <2 days: identity data visibility
✅ Identity data queries: 3 weeks vs. 3 seconds
✅ Reducing manual tasks, improved productivity
✅ Savings on license and integration costs
SOLUTION
How we applied

identity data analytics
Deployed Elimity Insights platform
Integrating with 10+ applications
Linked all data, ensuring up-to-date identity data set
Empowered IAM team with day-to-day analyses
Advanced data insights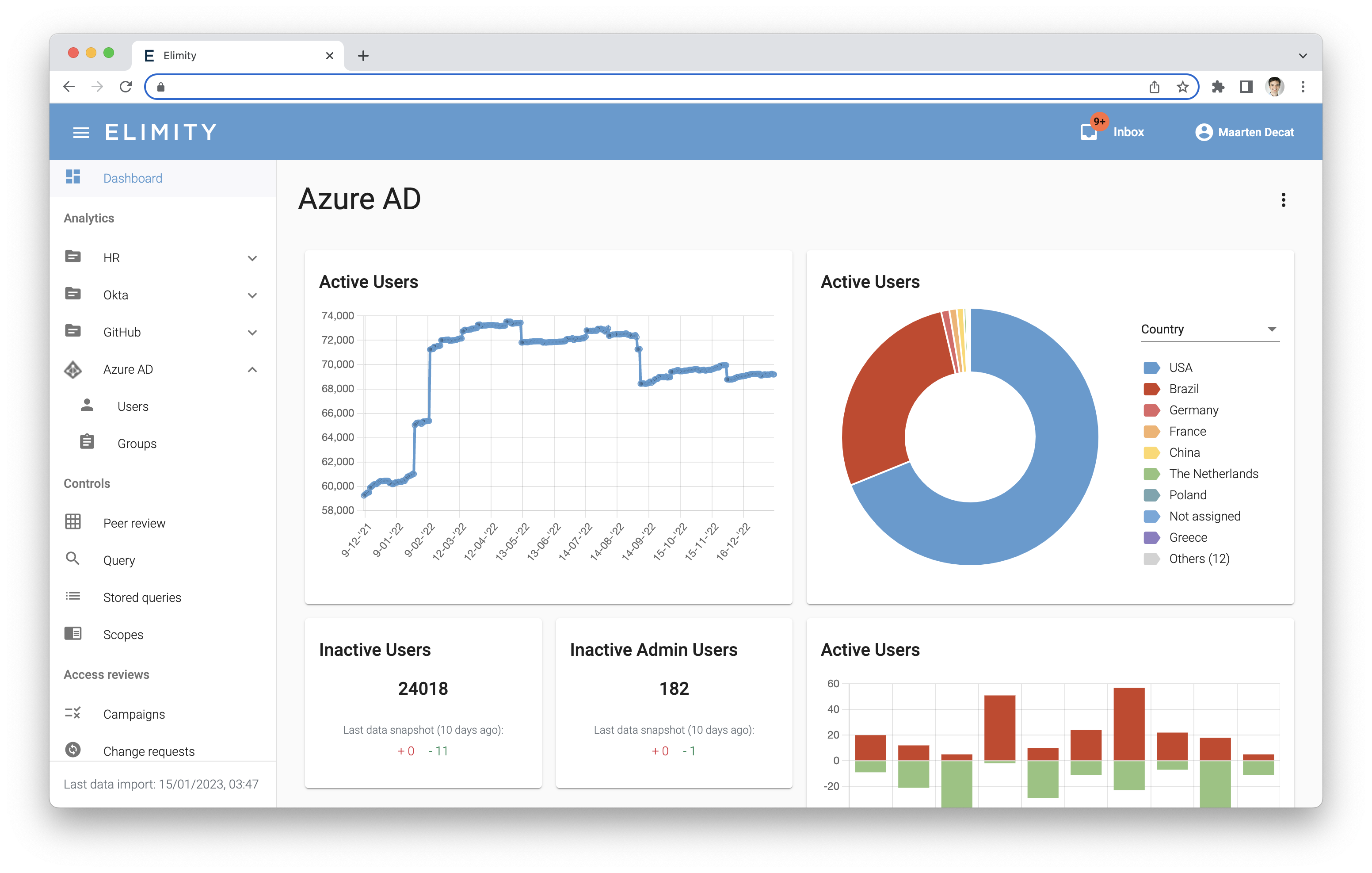 Customer Case in
Numbers
👉 2 Days until first visibility of existing users and their accesses.
👉 10 Sources connected to the platform after 2 weeks
👉 2 Weeks to get to an always-up-to-date overview of over 10 IAM sources
👉 3 Seconds to analyse the accesses of everyone in a team, compared to 3 weeks before
👉 30 Out-of-the-box security controls and automated security KPIs
👉 50 Queries deployed on IAM data, compared to 5 manual queries prior to Elimity
👉 300 Employees with the ability to perform IAM analyses compared to 5 SMEs before
FREE GUIDE
KPI-Driven approach to IAM
Our guide walks you through everything you need to start using KPIs to improve your IAM security.
DOWNLOAD KPI GUIDE
BLOG
Your Ultimate IGA-Deployment Checklist
Are you starting your identity governance and administration (IGA) journey? Follow Elimity's checklist for successful IGA deployment.
FILL OUT THE CHECKLIST